CRITICAL CHOICES THAT CHANGE LIVES
How Heroes Turn Tragedy Into Triumph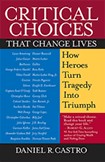 Heroes have been turning tragedy into triumph for thousands of
years. Learn the patterns that heroes throughout history have followed in order to overcome extreme obstacles.
---
101 WAYS TO SPOT ELEGANT SOLUTIONS
HIDDEN IN PLAIN SIGHT
The absolute list of reasons why heroes and legends can spot
elegant solutions that are invisible to everyone else.
This book will be released in 2015! If you want to receive
notification of when it is available, please fill out the form below.
---